LEONARDO RANUCCI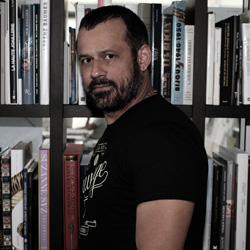 (Brescia, 1964)  Jewellery and luxury items designer.
He grew up in Vicenza (Italy), a region where the jewellery industry knows a period of fast and continuous development.
His artistic education helped him develop a vivid imagination which will become a key element present in all his artistic productions.
In 1989, he meets Vinicio Cenzi and together they found Cenzi-Ranucci Design, starting a passionate collaboration which will have them work with some of the most prestigious Italian jewellery companies (Bulgari, la Nouvelle Bague, Roberto Coin…) as well as with major fashion brands such as Diesel, Just Cavalli, Gianfranco Ferrè among many others.
In those years, he starts a personal journey which pushes him to travel all around the world to look for new sources of inspiration and unique experiences which will shine through many of his creations.
In 2000, he launches Devotion, a brand focusing on trendy and innovative jewellery silver collection for men. A few years later, he starts collaborating with Venini (a leading Italian brand in the glassware production), opening the doors to a series of new collaborations outside of jewellery in fields ranging from eyewear to leather accessories and from writing instruments to watches.
In 2008, after opening a studio in Paris, he starts collaborating with the LVMH group, becoming the major designer of the Fred brand. He successfully upgrades the classic "Force 10" and "Pain de Sucre" collections as well as the new "Baie des Anges" and "Kate Moss" lines and furthermore creates extraordinary pieces for an exclusive private clientele.
The firm is currently working with several big fashion companies and jewellery brands creating innovative products ranging from the big distribution collections to the exclusive creations.